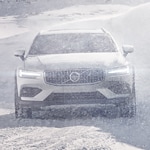 The 2022 Volvo V60 Cross Country is a wagon with a sleek and sporty exterior design. It has an interior that's both luxurious and practical. It offers athletic performance too, especially from the Polestar models. Here at Volvo Cars Cincinnati, we appreciate the many safety features of this fine vehicle.
The Volvo V60 Cross Country has tech to help you when turning in front of oncoming cross-traffic. There's Safety Assistance Technology that gives the driver a warning and even applies brakes when needed, if one tries to turn in front of a vehicle when it's unsafe to do so. This system can also detect potential forward crashes and senses pedestrians and cyclists.
Rear Cross-Traffic Detection allows the driver to safely back up out of parking spaces. The vehicle also self-corrects by making adjustments when one starts to drift outside of their own lane. All models have a comprehensive airbag system too.