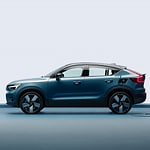 At Volvo Cars Cincinnati, the safety of our customers is a primary concern. We pride ourselves on providing quality vehicles to the Cincinnati area. In fact, we're quite proud that so many models in our inventory offer an array of standard and advanced safety features. One we think you'll particularly want to check out is the Volvo C40 Recharge. Here's a highlight of some of our favorite 2022 Volvo C40 Recharge safety features.
The C40 Recharge is Volvo's first pure electric crossover. Not only is it environmentally friendly to own, you'll also feel more confident behind the wheel with so many available assisted safety features. This Volvo can help you prevent collisions by sending an alert should you find yourself too close to another motorist or cyclist. If you fail to respond, the vehicle will then automatically apply the brakes.
In the event that a collision does occur, the C40's advanced body structure and unique battery safety cage are designed to better protect the occupants of your vehicle.