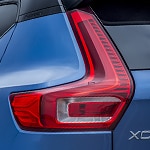 The XC40 is the first Volvo car to offer this technology, which uses radar and camera sensors to detect potential hazards on the road ahead. If a collision is imminent, the system will automatically apply the brakes to help avoid or mitigate the impact.
Run-off road protection. Another safety feature unique to the XC40 is run-off road protection. If the car detects that it's about to leave the road, it will tighten the front seat belts and automatically apply the brakes to help keep the vehicle on track.
Active bending headlights. The XC40 also features active bending headlights, which swivel in the direction of travel to improve visibility around corners.
LED headlights and taillights. LED headlights and taillights are standard on the XC40, providing better illumination and visibility for both drivers and pedestrians.
Rear view camera. A rear view camera is standard on all XC40 models, making it easier to see what's behind you when reversing or parking.