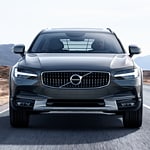 The design of the Volvo V90 Cross Country stands out from many vehicles of its class. This family-friendly wagon strikes an impressive balance between a sedan and an SUV, making it the most comfortable luxury wagon in the market. It has a powerful engine and all-wheel drivetrain.
Inside, the Volvo V90 Cross Country is fully equipped with state-of-the-art features while still offering great cargo space. It has a luxurious interior that will make you feel like you are in a sedan. Volvo V90 Cross Country is ideal for people traveling long distance. It offers stellar performance, and comes with many safety features.
The Volvo V90 Cross country is available in two engine options: a B6 Turbo, and a supercharged MHEV four-cylinder AWD powertrain. The V90 Cross Country sets a new standard for performance with 295-hp and 310 lb-ft of torque. Both engines come with an eight-speed automatic transmission. The Volvo V90 is flexible and allows drivers to add to the packages whatever features they desire.