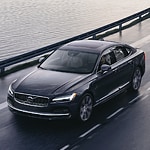 The 2022 Volvo S90 features an all-new design and includes a sleek exterior with classy contours. The car's shape is about as clean as it gets, with no unnecessary lines or curves to take away from its beauty. Every detail is there for a reason, and it looks much better without any ridges or creases that are often added to make the car look cool.
All of the lines on this vehicle flow naturally and gracefully, reflecting its luxury and high-end design. The car's front end is almost perfectly round, with the grille being placed towards the center. The shape of this grille is unique, similar to that found on a bulldog or pit-bull dog.
The headlights are rather narrow, but they still cover a lot of ground. The windshield is pretty long in length and height, providing a generous amount of visibility for the driver. The taillights are just two normal rectangles placed one below the other, but they have a built-in outer edge to make them appear unique.