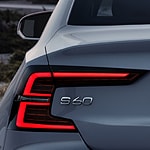 There is no denying that shoppers at Volvo Cars Cincinnati in the market for a 2022 Volvo S60 expect luxury. This upscale vehicle exceeds expectations.
Ambient Interior Lighting
Ambient interior lighting is available for the 2022 Volvo S60. It is a feature that elevates the cabin of a vehicle. The soft illumination of the interior contributes to a more enjoyable experience for all occupants. Lighting can be transformative in any environment, and the ambient interior lighting in the 2022 Volvo S60 is proof because it enhances the atmosphere.
Quad-Zone Automatic Climate Control
Quad-zone automatic climate control is an interior feature available for 2022 Volvo S60 models at our dealership in Cincinnati. This feature makes it easy to adjust the climate in four areas to accommodate the needs of the driver, the front passenger and occupants seated in the rear. That means everyone can enjoy maximum comfort based on individual preferences.